July 8, 2015, Wednesday
July 8, 2015 in A FEW MINUTES OF PRAYER IN THE HOME PRESS by pithpress

Our Prayer
Lord, as we begin these moments of prayer and meditation in the light of your Word,
We ask the Lord the help of the Holy Spirit.
May His Holy Fire engulf us in His love.
May His Holy Word instruct us and inform us.
O God, may you open our minds, our understanding and above all, our will to your call.
May your Word fill our daily living with LIFE.
May our hearts be afire with the desire to love you and serve you.
May we seek above all to imitate the life of prayer and sacrifice of Jesus, your Son.
Help us to seek you in every moment and be willing to give up all worldly allures to serve you.
Give us a heart open to praise you, open to hear you and open to follow you.
Help us have a submissive heart like Mother Mary's Immaculate Heart to abandon ourselves more fully to you, Lord.
Our Father, Hail Mary,
Glory be.Glory be.
July 8, 2015, Wednesday
Read:   Gn. 41:55-57; 42: 5-7, 17-24   Mt. 10: 1-7
"The names of the twelve apostles are these: first, Simon called Peter, and his brother Andrew; James, the son of Zebedee, and his brother John; Philip and Bartholomew, Thomas and Matthew the tax collector; James, the son of Alphaeus, and Thaddeus; Simon the Cananean, and Judas Iscariot who betrayed him."  (Mt. 10: 2-4)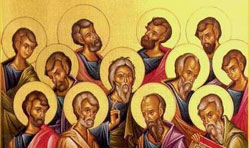 The Apostles were individuals with very different personalities.  They fought among themselves:  "An argument arose among the disciples about which of them was the greatest." (Lk. 9:46) 
Peter was impulsive in word and deed.  Thomas was slow to believe things.  John won the singular confidence and trust of the Lord.  Judas betrayed our Lord. 
Each Apostle had their own particular and peculiar identity and differing expressions of commitment.
What united the group was the love of the Master, and faithfulness to His Kingdom.
Interest in fulfilling His Holy Word and in living the Christian life was (and is) enough to rise above individual differences.
When facing those personality clashes that often wreak such havoc on our parish organizations and ministries (not to mention convents and rectories!), we need remember that it takes all kinds to teach Christ's message.  Each and every one of us has something to offer in the building of the Kingdom.
"As a body is one though it has many parts, and all the parts of the body, though many, are one body, so also Christ."  (1 Cor 12:12)
Reflection and commentary
Psalm 146:5  "Happy those whose help is God, whose hope is in the LORD, their God."
PRAYERS OF PETITION
From the 1st to the 7th of July
Together, we offer our prayers to our Heavenly Father.  We offer them in the unity and  power motivated by the Holy Spirit.  We now present our needs: Lord, hear us.
Lord, we know that you have the words of eternal life. Help us to love those words and to put them into practice in our daily lives.  Lord, hear us.
To know you, Lord, is to know the Father, and that is enough for us.  Guide us to know your divine assistance, to come to know you and look only to you, our true life.  Lord, hear us.
For our troops in harm's way, that they may know you guiding and saving hand at all times.  May their decisions be made with prudence and great faith.  May they always practice restraint whenever possible.  Lord, hear us.
Belief, in today's day and age, is difficult and takes courage.  Belief, that is, that runs contrary to the "flow" of what everybody else is doing or thinking.  Help us to be courageous, Lord, and to put our time, energy and resources at your disposal.   Lord, hear us.
You are the light of the world, and you promise to illumine the pathway for all believers.  Light our path through the glory of your resurrection.   Lord, hear us.
You have always used messengers to proclaim your Holy Presence, in former times the prophets and angels did your Holy bidding.  Today, in the Church, you call upon us to be your ambassadors.  Give us courage, Lord.   Lord, hear us.
You are the way, the truth and the life, and no one can go to the Father except through you.  Help us to understand the meaning of these words, and live them.  Lord, hear us.
(Add your own petitions)
OUR PRAYER:  God our Father, thank you for the gift of life, our first life from our parents and the new life you give us through the resurrection of your Son, Jesus Christ, our LORD.  AMEN.