July 5, 2015, XIV SUNDAY IN ORDINARY TIME
July 5, 2015 in A FEW MINUTES OF PRAYER IN THE HOME PRESS by pithpress
"We even boast of our afflictions, knowing that affliction produces endurance, and endurance, proven character, and proven character, hope, and hope does not disappoint, because the love of God has been poured out into our hearts through the holy Spirit…  Where sin increased, grace overflowed all the more… through Jesus Christ our Lord."  (Romans 5: 3-5, 20)
We just finished our "radio-thon" — an attempt to raise money to support our listener supported radio station — it did not go well.  We cannot say some things on the radio, including "raffle" or even ask for money directly (supposedly) so we are limited in many ways on how we are to function.
We are technically illegal since there is not supposed to be Church programming on Mexican radio.  And the programming that is allowed is to be of a "cultural nature" with few Masses celebrated on air (and only with the required permissions).  However, though the laws have not changed, were are enjoying a time of "tolerance" where the government is not cracking down on the Church (for now).  Remember, that in this predominantly Catholic country, until recently, priest and religious could not wear their distinctive habits or clerical garb in public and just a little over a half a century ago, the Church was in outright persecution. 
And yet we thrive!
We had over 50 K people in our March for Life.  Archdiocesan events are packed.  Our Covenant Community is one of the largest and most active in Mexico (yet we still can't hold a candle to San Luis Potosi — they're really huge).
In adversity, Christ's people thrive.  Maybe we're "gluttons for punishment" or more like it,
we really need to abandon ourselves to God's grace and let Him do the work. 
Not that we do not have to labor away or that we rest on our laurels.  Certainly that would be a recipe for disaster.  Rather, the grace of God is enough for us to multiply our efforts and, if the labor is truly His, His grace will prevail.  This concept of media (print or aire time) is expensive. 
I trust.  And continue to do so.  Thy will be done, Lord.  25,000 a month is a lot of money.  But as Blessed Teresa of Calcutta, M.C. used to say:  God has lots of money! 
Blessings!  
~Fr. Jeffrey David

Our Prayer
Lord, as we begin these moments of prayer and meditation in the light of your Word,
We ask the Lord the help of the Holy Spirit.
May His Holy Fire engulf us in His love.
May His Holy Word instruct us and inform us.
O God, may you open our minds, our understanding and above all, our will to your call.
May your Word fill our daily living with LIFE.
May our hearts be afire with the desire to love you and serve you.
May we seek above all to imitate the life of prayer and sacrifice of Jesus, your Son.
Help us to seek you in every moment and be willing to give up all worldly allures to serve you.
Give us a heart open to praise you, open to hear you and open to follow you.
Help us have a submissive heart like Mother Mary's Immaculate Heart to abandon ourselves more fully to you, Lord.
Our Father, Hail Mary,
Glory be.Glory be.
July 5, 2015, XIV SUNDAY IN ORDINARY TIME
Read: Ez. 2: 2-5    2 Cor. 12: 7-10    Mk. 6: 1-6
 " 'My grace is sufficient for you, for power is made perfect in weakness.  I will rather boast most  gladly of  my weaknesses, in order that the power of Christ may dwell with me. Therefore, I am content with weaknesses, insults, hardships, persecutions, and constraints, for the sake of Christ; for when I am weak, then I am strong.' " (2 Cor. 12:9-10)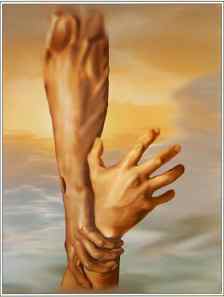 There are those among us who still do not understand the meaning of the Gospel, and who try to pretend importance, "to shine" so that we might notice them.
We may feel humiliated or vindictive when someone says something against us, or  when someone tells others something  about  us (even if it be true) that puts us in a bad light.
According  to  worldly standards, haughtiness is strength and humility is weakness.
The truth is, however, that it takes spiritual courage to admit that we really are nothing without God. We must begin from the perspective that God made us out of nothing.  Everything we are belongs to Him.  We must thank Him and use His gifts  in us to further His holy Will.
"Blessed are the poor in spirit,  for theirs is the kingdom of heaven."   (Mt. 5:3)
"For everyone who exalts himself will be humbled, but the one who humbles himself will be exalted."  (Luke 14:11)
"Rather, when  you hold a banquet, invite the poor, the crippled, the lame, the blind;  blessed indeed will you be because of their inability to repay you. For you will be repaid at  the resurrection of the righteous."  (Luke 14:13-14)
Reflection and commentary
Psalm 18:  I love you, LORD, my strength, LORD, my rock, my  fortress, my deliverer, My God, my rock of refuge."
PRAYERS OF PETITION
From the 1st to the 7th of July
Together, we offer our prayers to our Heavenly Father.  We offer them in the unity and  power motivated by the Holy Spirit.  We now present our needs: Lord, hear us.
Lord, we know that you have the words of eternal life. Help us to love those words and to put them into practice in our daily lives.  Lord, hear us.
To know you, Lord, is to know the Father, and that is enough for us.  Guide us to know your divine assistance, to come to know you and look only to you, our true life.  Lord, hear us.
For our troops in harm's way, that they may know you guiding and saving hand at all times.  May their decisions be made with prudence and great faith.  May they always practice restraint whenever possible.  Lord, hear us.
Belief, in today's day and age, is difficult and takes courage.  Belief, that is, that runs contrary to the "flow" of what everybody else is doing or thinking.  Help us to be courageous, Lord, and to put our time, energy and resources at your disposal.   Lord, hear us.
You are the light of the world, and you promise to illumine the pathway for all believers.  Light our path through the glory of your resurrection.   Lord, hear us.
You have always used messengers to proclaim your Holy Presence, in former times the prophets and angels did your Holy bidding.  Today, in the Church, you call upon us to be your ambassadors.  Give us courage, Lord.   Lord, hear us.
You are the way, the truth and the life, and no one can go to the Father except through you.  Help us to understand the meaning of these words, and live them.  Lord, hear us.
(Add your own petitions)
OUR PRAYER:  God our Father, thank you for the gift of life, our first life from our parents and the new life you give us through the resurrection of your Son, Jesus Christ, our LORD.  AMEN.